What is ceramic fritted insulated glass?
Ceramic-fritted insulated glass, also called silk screen insulated glass, is a type of architectural glass that consists of two or more glass panes separated by an insulated spacer, one of the glass is ceramic-fritted glass. The space between the glass panes is filled with air or an insulating gas, such as argon or krypton, to improve thermal insulation.
The ceramic fritted insulated glass is a specially formulated enamel that is applied to the glass surface and then fused at high temperatures. This creates a durable, decorative, and functional coating on the glass.
The ceramic frit pattern glass can serve multiple purposes. It can be used for aesthetics, providing a decorative element to the glass surface. Additionally, it can be designed to control light transmission and glare, enhance privacy, or reduce solar heat gain. The frit pattern can also improve safety by adding traction and preventing slips on glass surfaces.
What about the advantages of ceramic-fitted insulated glass?
Here are some key advantages of ceramic fritted insulated glass:
Enhanced Energy Efficiency
Silkscreen glazed glass helps to improve energy efficiency in buildings by reducing heat gain and loss. The fritted pattern on the glass surface acts as a shading system, allowing natural light to enter while minimizing solar heat transmission.
Privacy and Glare Control
Dragon Glass glazed glass with fritted processing provides privacy without sacrificing natural light. The fritted pattern can be designed to control the level of opacity, allowing for desired levels of privacy while still maintaining a connection to the outside world. It also helps reduce glare, making it suitable for spaces where visual comfort is important.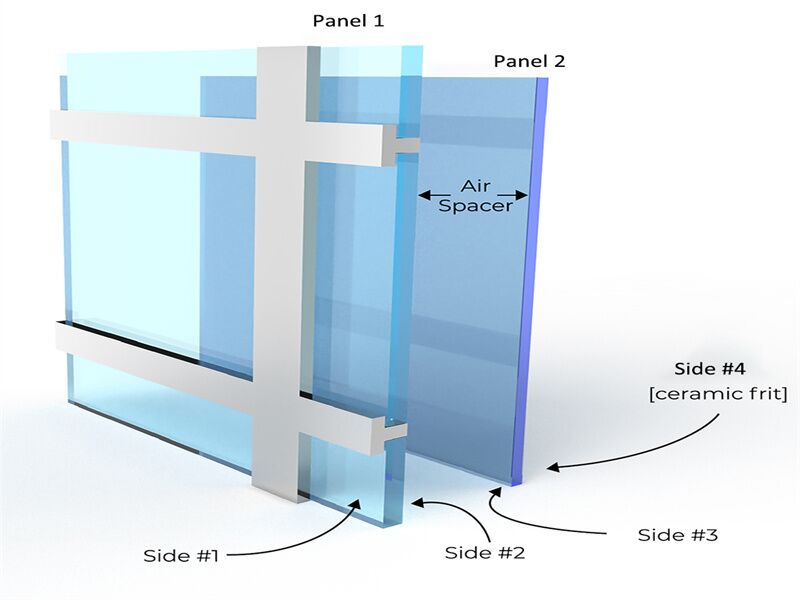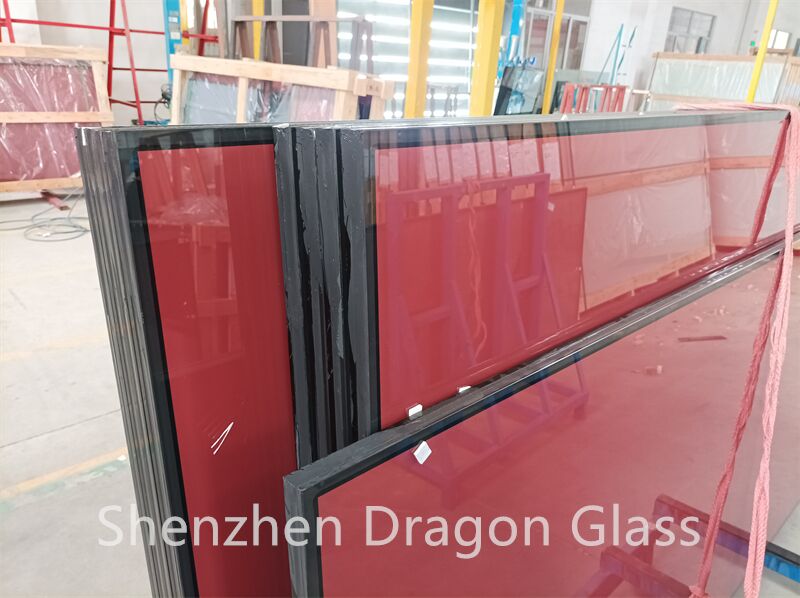 Aesthetically Pleasing
With ceramic-fitted double-glazing glass, architects and designers have the flexibility to create unique patterns and designs. The fritted pattern can be customized to complement the building's design aesthetic and enhance its overall appearance.
Easy Maintenance
Ceramic-fitted insulated glass is easy to clean and maintain. The fritted pattern on the glass is resistant to dirt, dust, and smudges, reducing the frequency of cleaning required.
Safety and Security
In the event of breakage, the fritted pattern on IGUs acts as a safety net, preventing the glass from shattering into large, dangerous shards. It also offers added security by making it more difficult for intruders to break through the glass.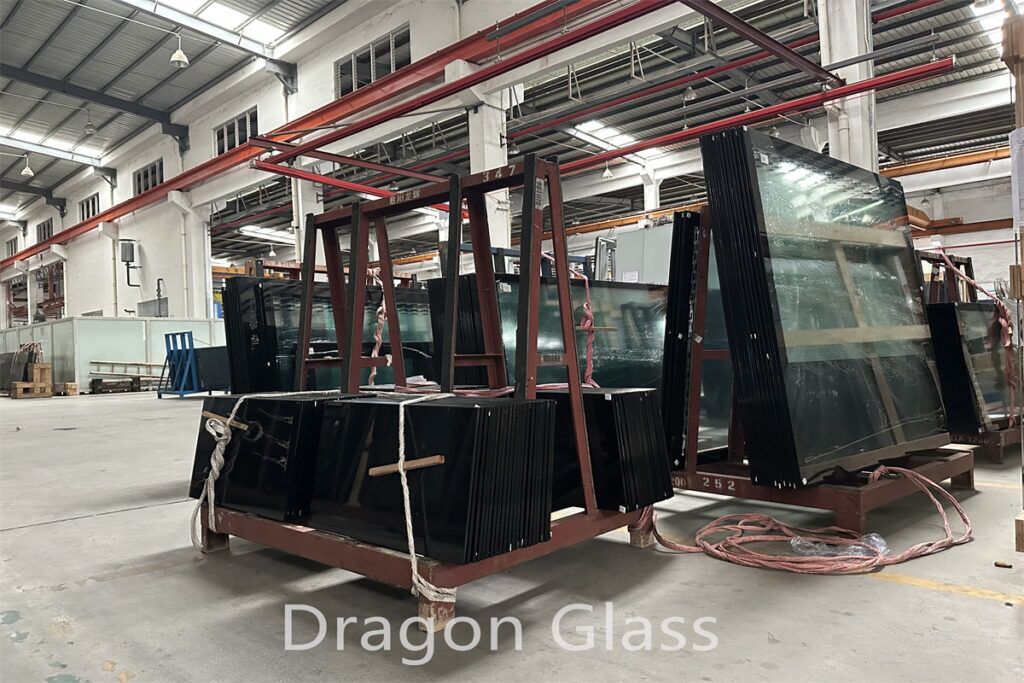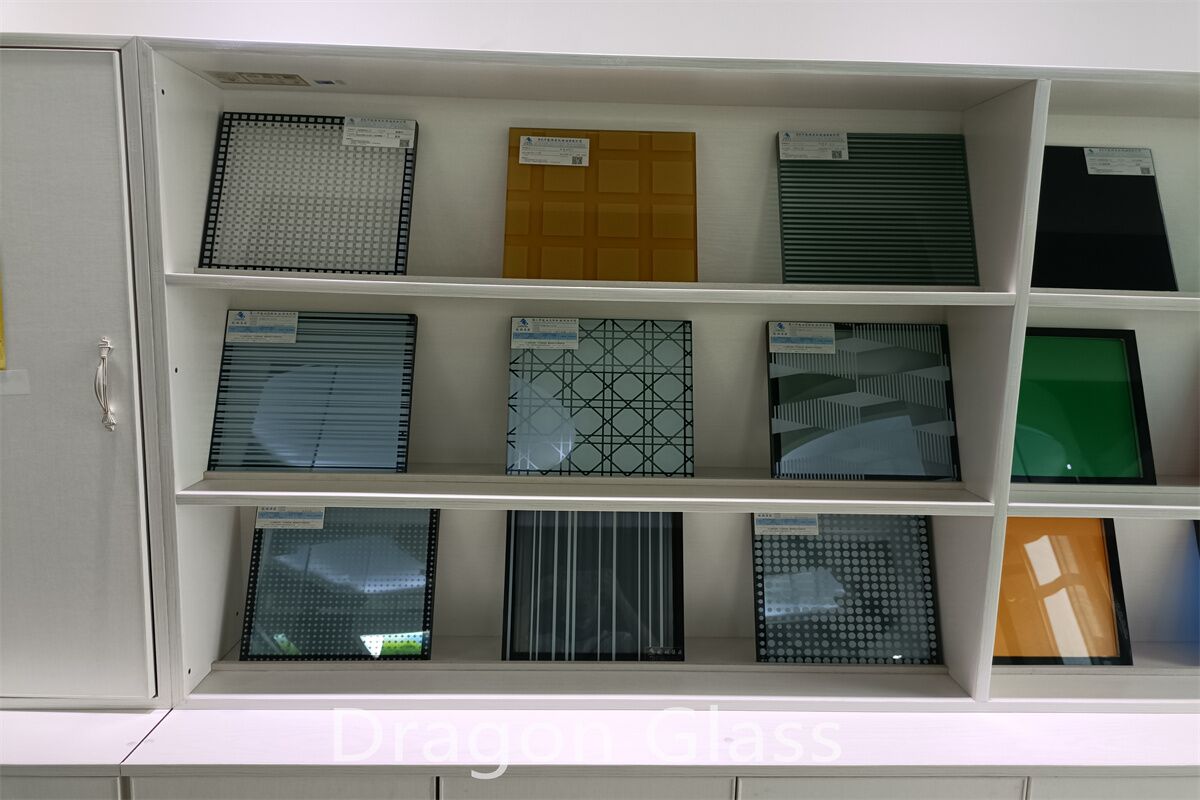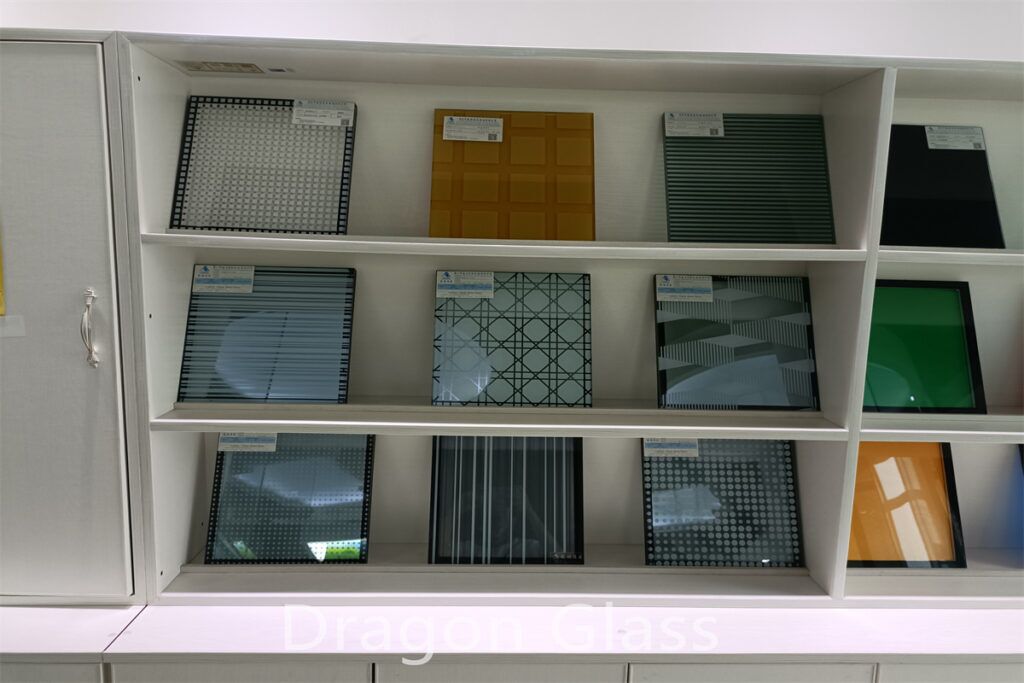 How's the production step for ceramic fritted insulated glass?
Cutting and Edging Facilities
Select high-quality 8mm glass with nice thickness and dimension from the Dragon Glass warehouse, for cutting accurately according to the customer's CAD drawings requirements, then transfer it to the edging machine for the following process. Normally the IGUs do not need more polishing, as its framed in windows.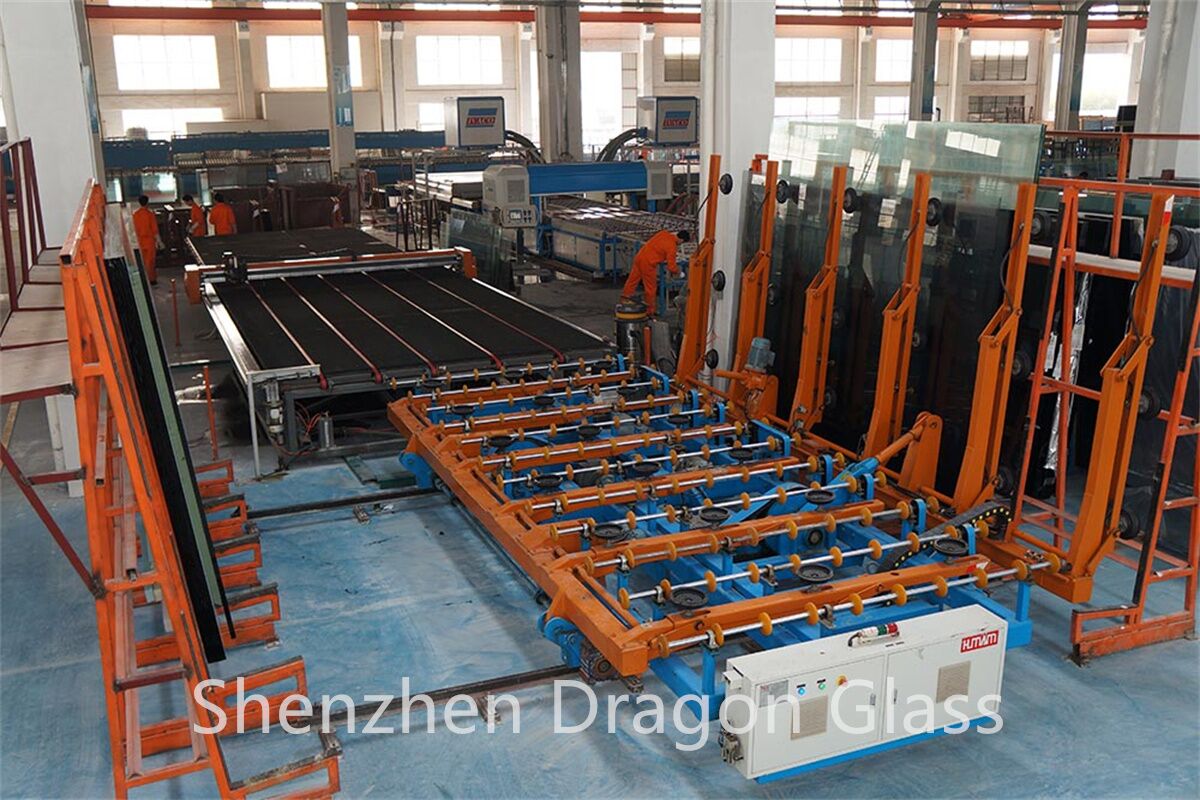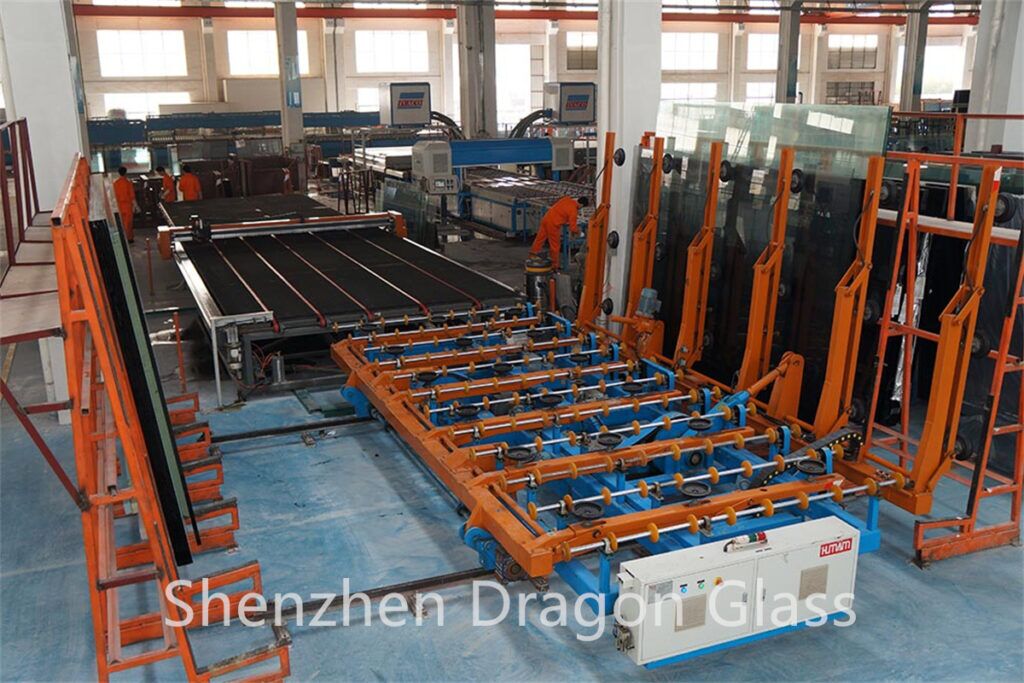 Ceramic FrItting Processing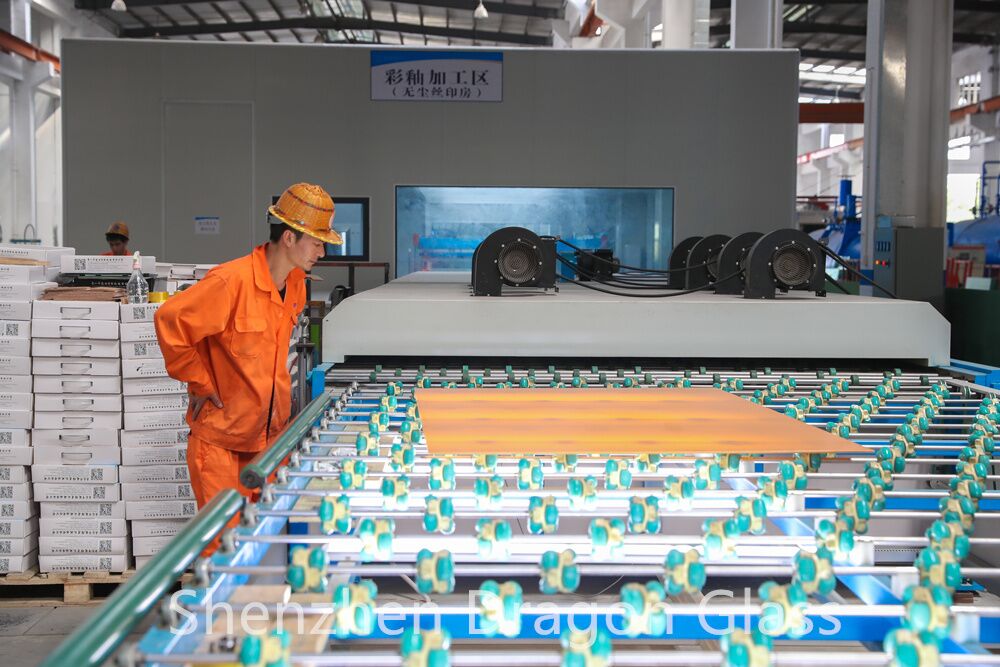 Transfer all glass to the ceramic fritting line, and process based on the customer's pattern drawings, We accept the use of AI or HD photos for starting processing. Then all the glass is finished, it's dried, and all the glass for tempering.
Tempering Processing
After previous processing, all 8mm glass shall transfer to our tempering furnace, our facilities which come from North Glass or International brand, this will let all glass be tempered in very good condition, the standard for us is self-explosion rate of less than 0.3%, super flatness, and no any defects, if find the problem during our QC inspection, need produce again in our production line, then just can go to next step.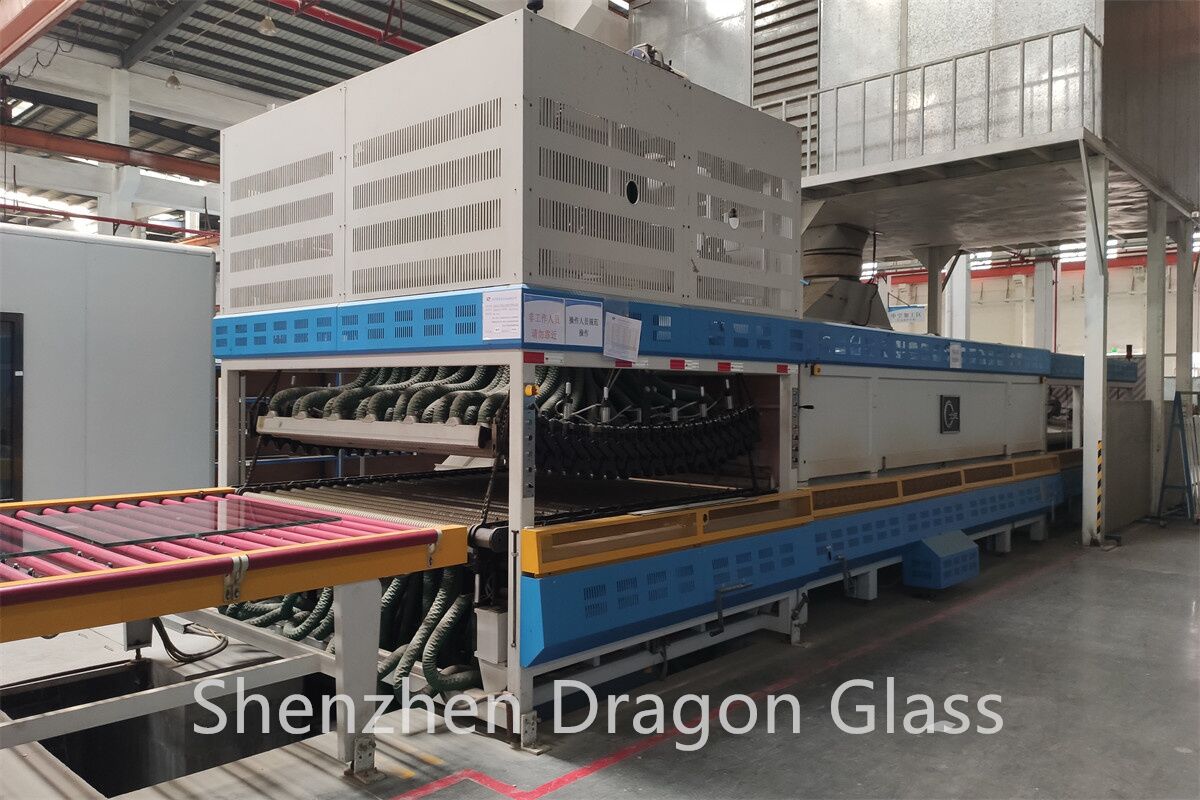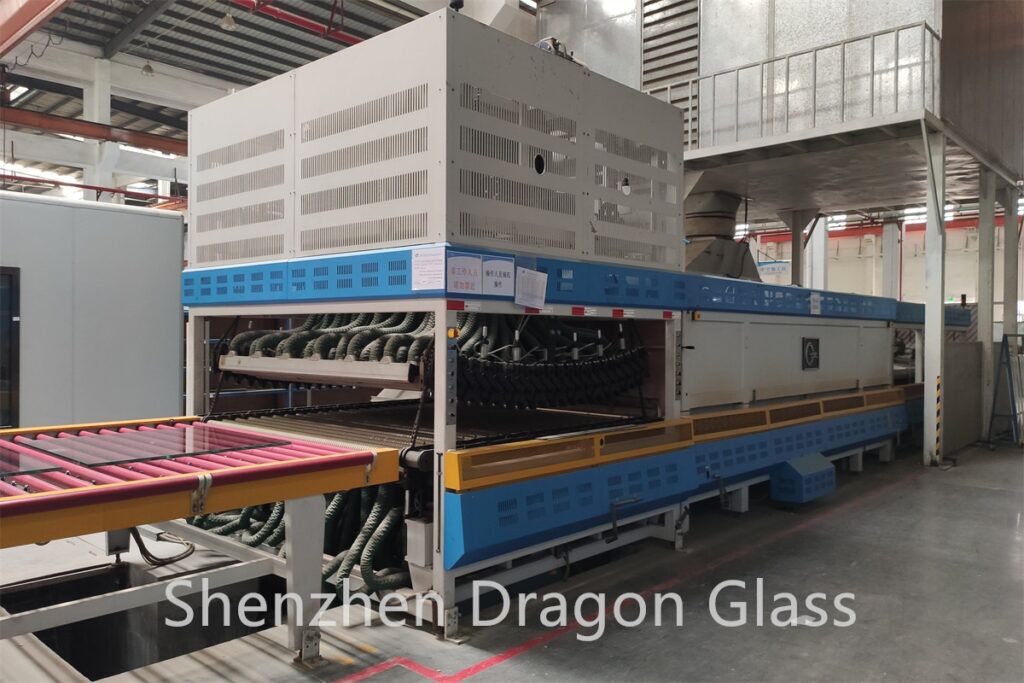 Insulating Process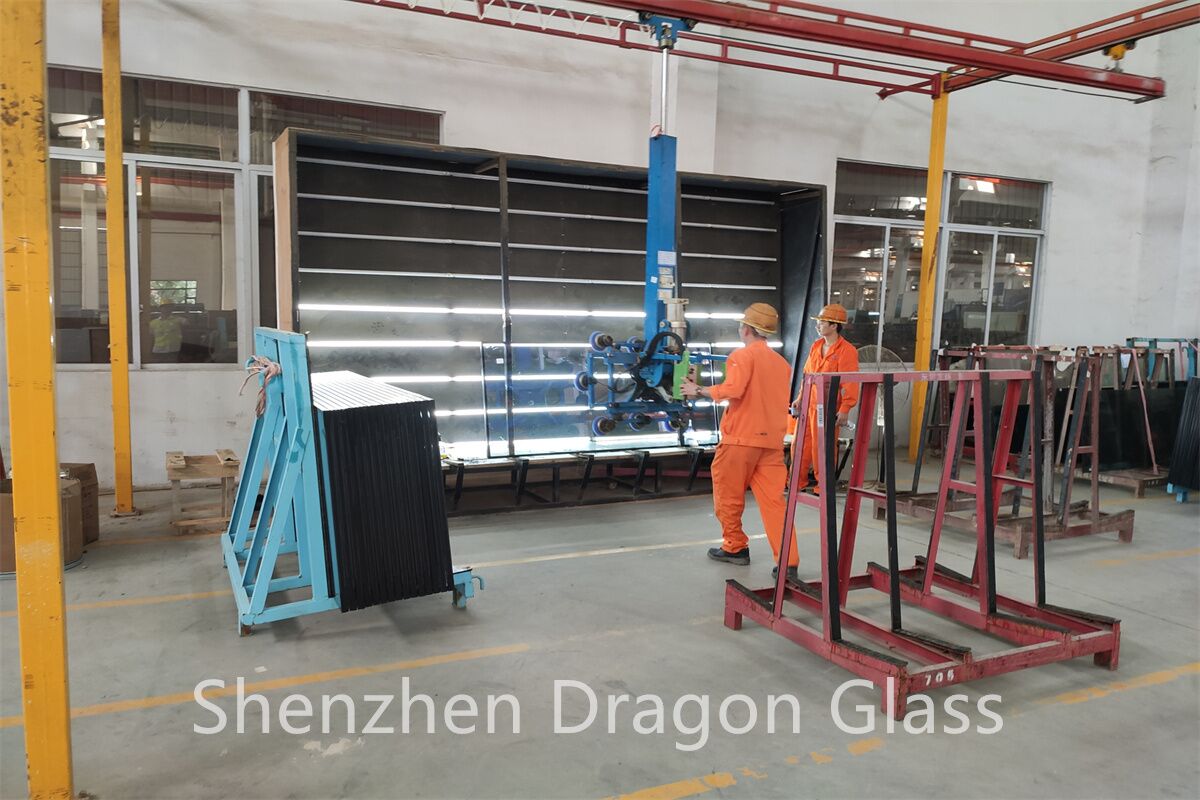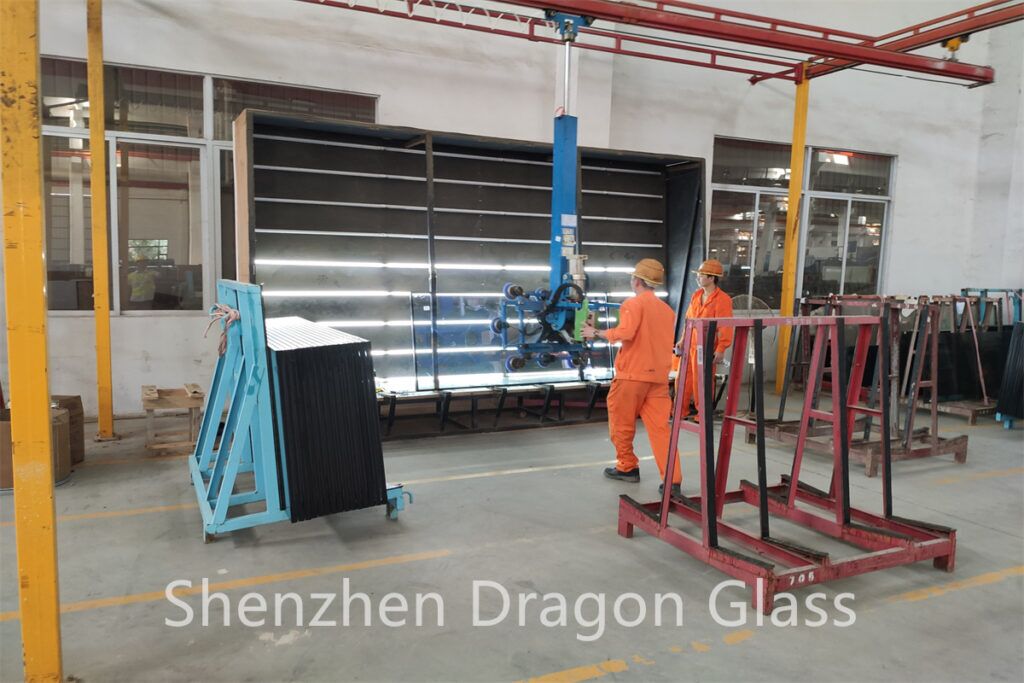 After tempering, transfer all 8mm tempered glass, and 8mm ceramic fritted glass to our insulated glass processing line, All glass shall use a high-quality aluminum spacer with good sealing and gas, and then all ceramic fritted IGUs are for sale already. Each piece of glass shall be inspected twice before delivery by our QC team.
Specification of ceramic-fritted DGUs
| | |
| --- | --- |
| Product Name | Ceramic-fritted IGUs, silkscreen double glazing units, ceramic fritted insulated glass |
| Thickness of Glass | 8+12A+8mm, 5/8 for glass |
| Thickness of Spacer | 12A, 1/2, others also available, 6A, 9A, 16A, 19A, and so on |
| Color Choice | Based on RAL /PANTONE color number, or pattern please send AI or HD photos to us |
| Dimension | Normal big size reach 2600x6600mm, more large size needs, please confirm with us. |
| Delivery Time | Around 20 working days, urgent request please contact us |
| Samples Information | Can be provided |
| Package Details | All use high-quality plywood crates with strong steel belt fix, the package no need fumigation |
What about our inspection and packaging for Ceramic fritted IGUs?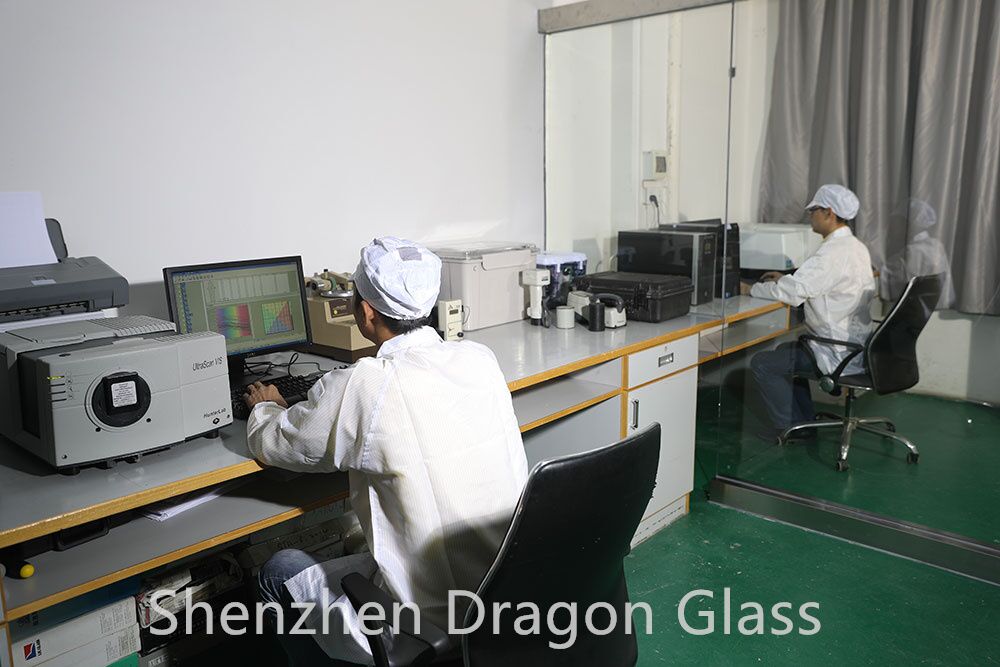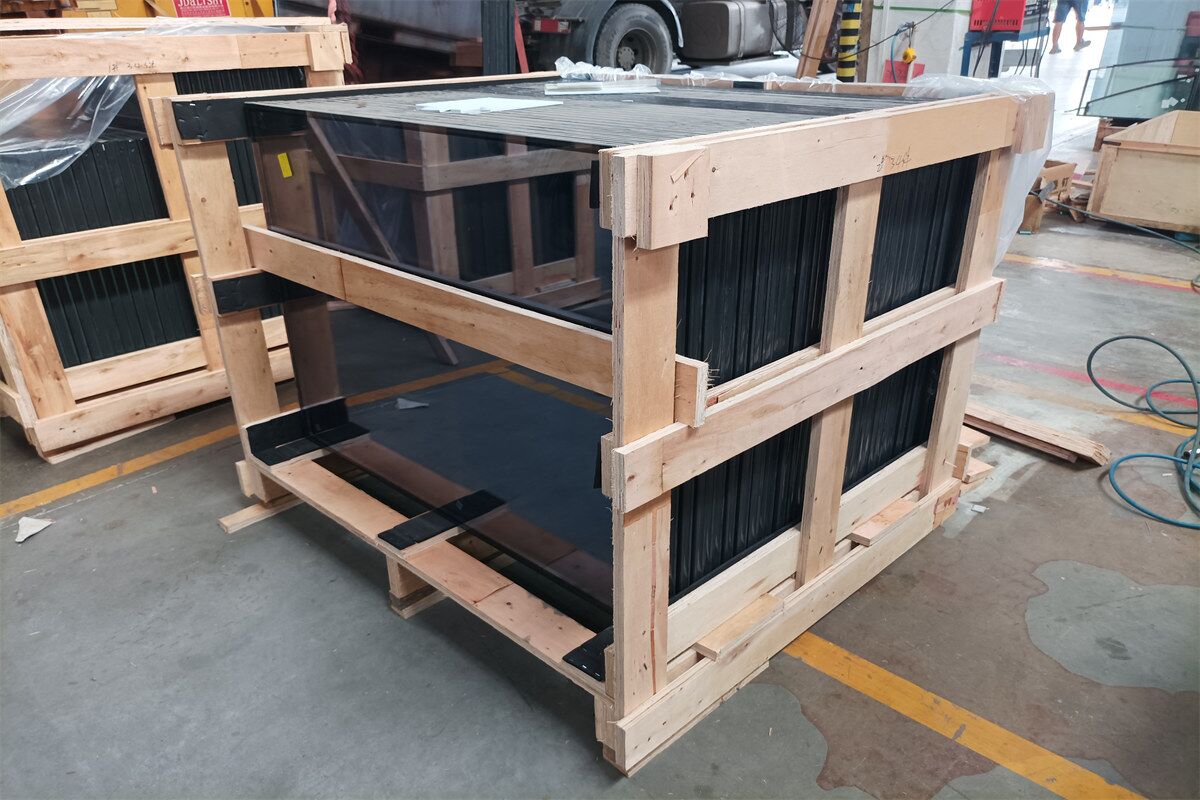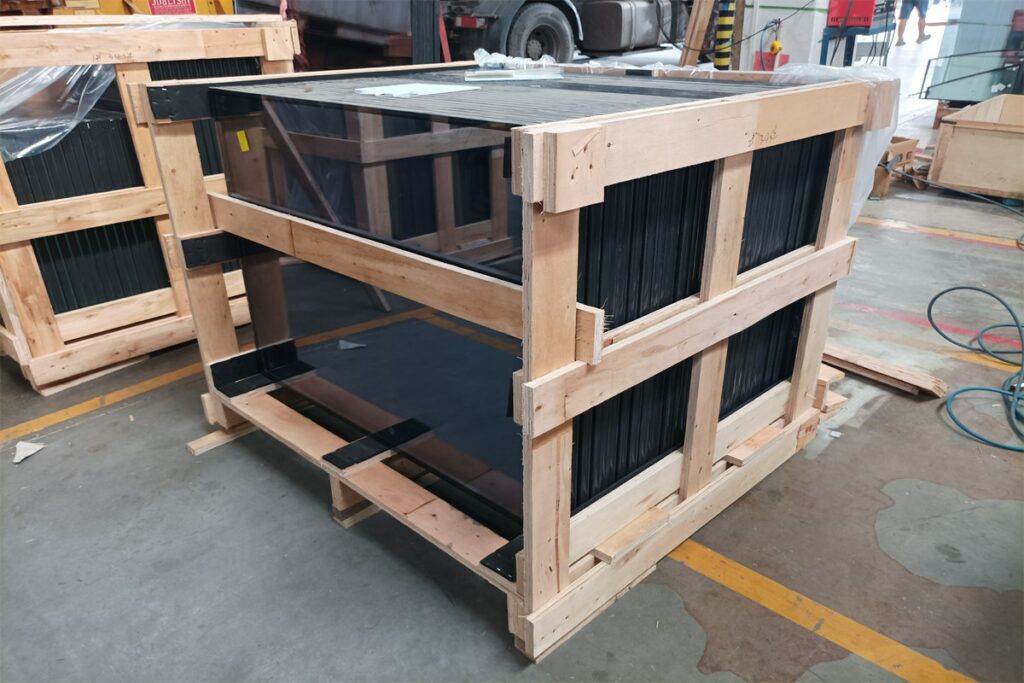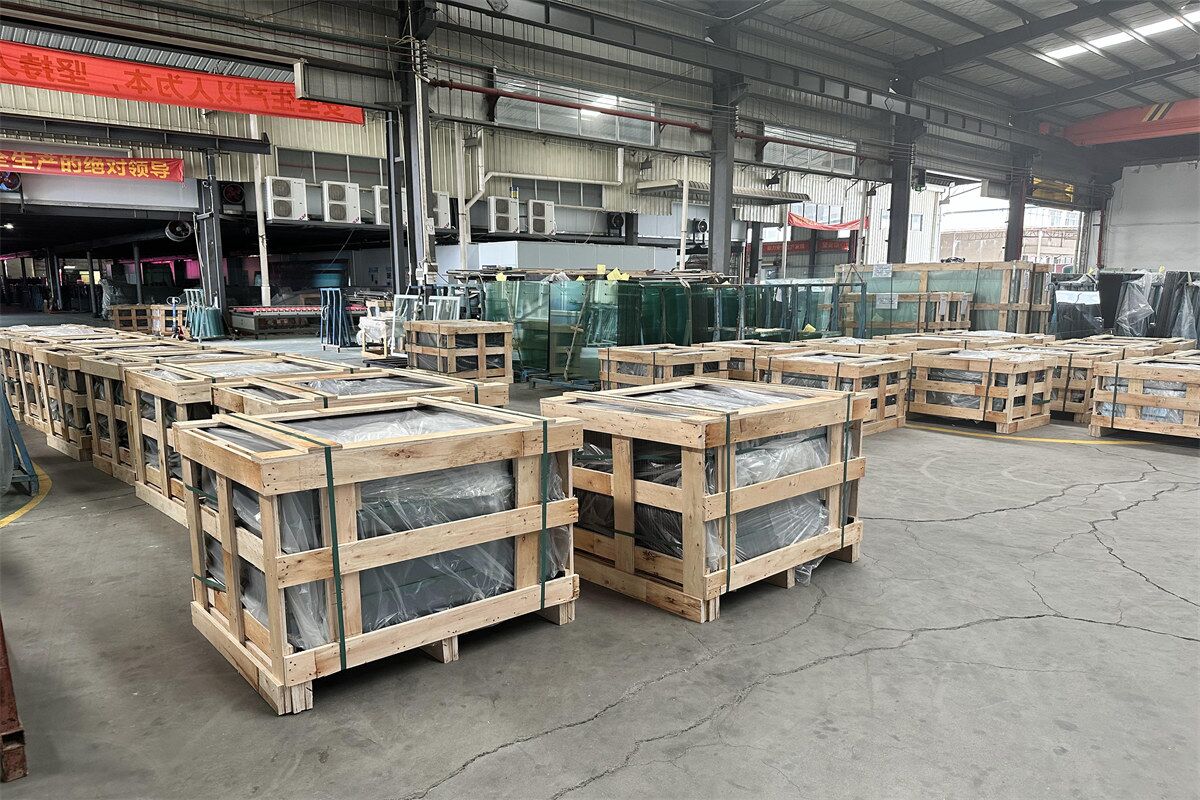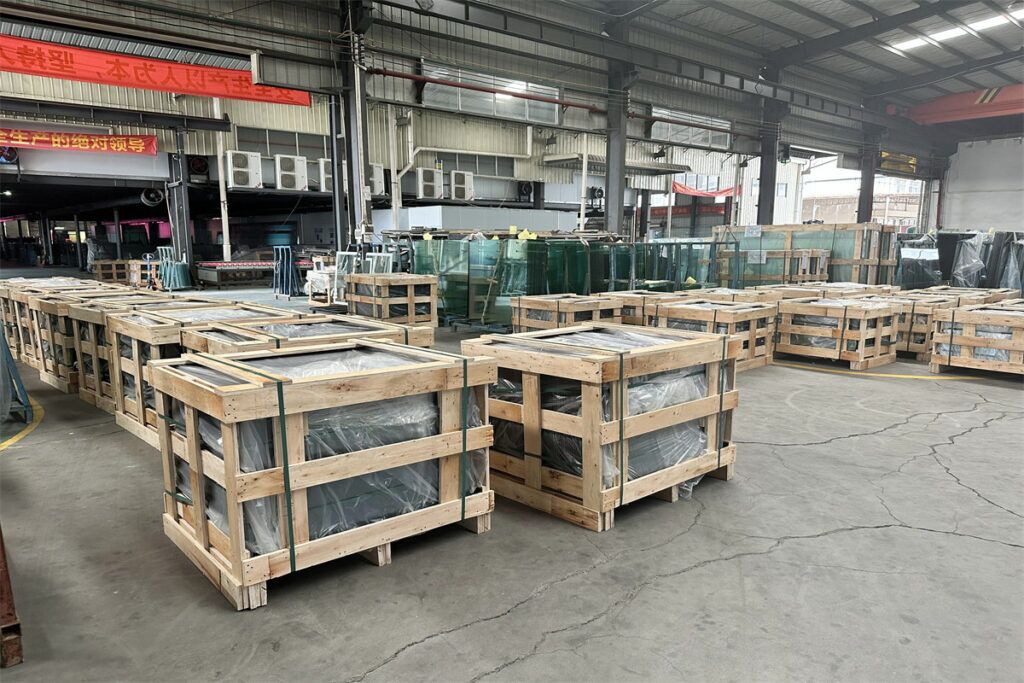 FAQ
1. What will be the ceramic insulated glass panes cost?
For silkscreen printing insulated glass costs will be influenced by several factors, such as:
Glass color;
Drilling holes or not;
Sizes: as it will influence the cutting rate;
Quantity: large quantity, cheaper price;
Silkscreen printing pattern.
Other Processing: if needed laminated, insulated, silkscreen printed, colored PVB, etc
2. Can you insulate glass windows? How to insulate glass windows?
As a professional glass supplier, we can certainly produce. You can find the glazing you need in our insulating glass product range.
Click here, you may find more information from us!
3. How can I customized my pattern on ceramic fritting IGUs?
First, please send us your draft photos, our team will check whether we can use ceramic fritting to realize what you need, if not, we shall use our digital printing machine to print on the glass, but please note we need to receive your AI documents, or HD photos during production, for make sure your pattern clearly.
Shenzhen Dragon Glass Co., Ltd, as a professional glass company, since 1994 built 4 production are based for processed glass, and in the past 10 years, working with many float glass company in China, not just a investment, but also make sure all our glass quality can reach what customers need, win owners good comments and more orders, and reach win-win business, and established great partnership in future.